Description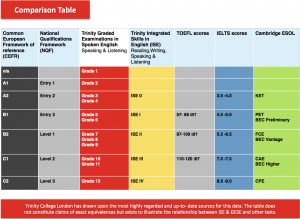 Have you already scheduled your Trinity College London International Certification Exams and need to improve your skills and develop the latest strategies? The next sessions for the achievement of the certifications issued by Trinity College London, #GESE and #ISE and # B2 for public competitions will be held in VIDEO CONFERENCE at our centre next March and July 2021. You can choose how to use the course, in presence or in online mode. One to One lessons, mini group 3 students or Course for Two.
Our preparation courses are aimed at obtaining the linguistic certification of the level of knowledge of the language A2, B1, B2, C1, C2, according to the European Framework of Reference (CEFR)
The English language Trinity http: // TrinityCollegeLondon exams are aligned to the #QCER according to the following pattern: LEVELS).